Part of the Anaheim Resort Transportation (ART), the CtrCity/Platinum Triangle line allows residents of Colony Park, The Domain and Stadium Lofts of Anaheim one more option to using their cars or Uber to get around the local attractions of Anaheim.
Stops include: The Arctic transportation center, Honda Center, Angel Stadium, Platinum Triangle, Olive Street, The Colony, Packing District, and Center Street Promenade.
The shuttle runs daily with 2 schedules: weekdays and weekends. At time of this blog's publishing, there were 9 pickups in the AM and 7 pickups in the evening for weekdays and 2 pickups in the AM and almost hourly pickups in the PM on the weekends. View updated information here.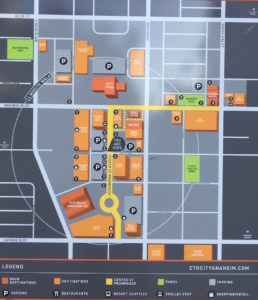 Ctr Destination Map (click to enlarge) from Center Street Promenade