If you've read my prior blogs related to this subject, you'll know my stance on rising home values: who it benefits and who's at a disadvantage.
As the speculation of a Real Estate bubble increases, I wanted to rehash this subject: if you're a homeowner with equity, are you better off "moving up" in a market where prices have gone up? Or are you better off when prices go lower?
Most unsophisticaed homeowners will focus too much on their home's value and that's where the misperception starts. I constantly heard "My home went up by X…" in 2006 from delighted homeowners.
The true way of answering this question is consider BOTH transactions.
Let's set a few assumptions up. A typical "move up" situation involves the sale of a property owned and buying another. In most cases, the "move up" property being bought is larger. (If the property being bought is smaller, we sometimes refer to this as "downsizing" in Real Estate, which is a similar scenario.) Of course, if you can hang on to your existing property that would be ideal, but most won't qualify for a loan or don't have the necessary funds in the bank.
Sale of Starter Home – let's assume the property that you own is a townhouse or condo between 1,100 to 1,400 square feet in the city of Brea, which is very similar to many Orange County markets with it's mix of older homes and new development, affluency, and ethnic distribution.
"Move Up" Home – for this discussion, we'll use a fully detached home from 1,800 to 2,500 square feet. Also in the City of Brea.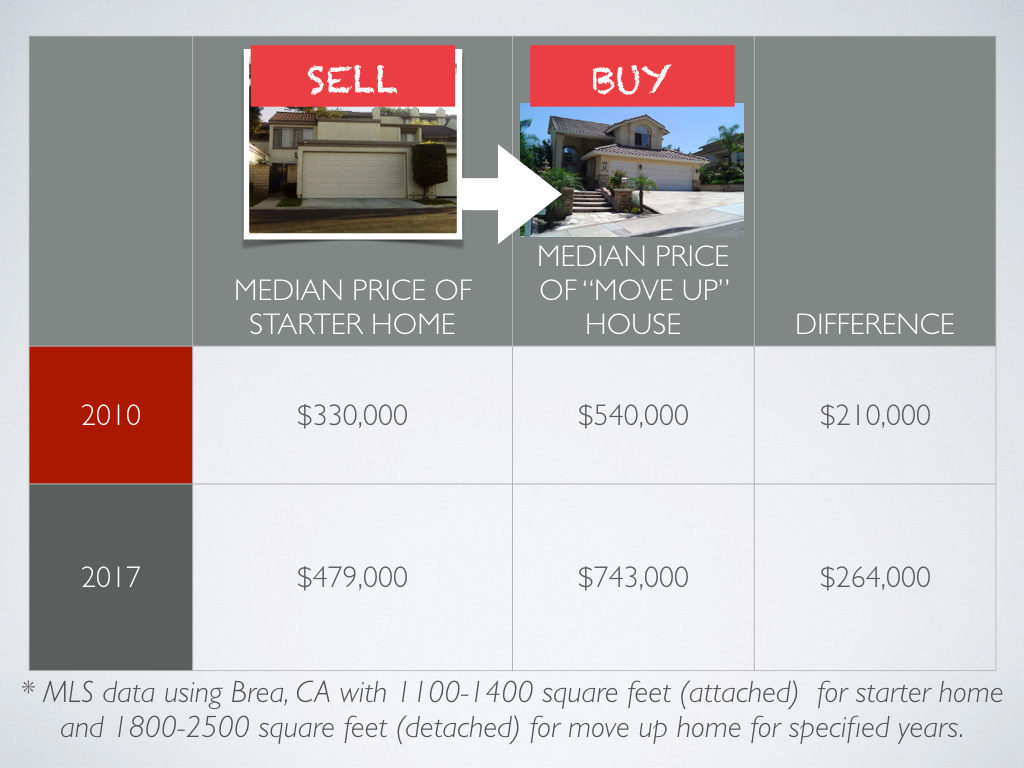 As you can see from the graphic above, that's a whopping difference of $54,000! In other words, the difference between your home and the replacement home increases as the market goes up.
Furthermore, when the market softens, you have other advantages: more selection when you purchase, lower closing costs, and lower property taxes.
The Verdict: given this information, if you plan on buying a "move up" home, don't be discouraged if you see prices dropping a bit. It's actually to your advantage.