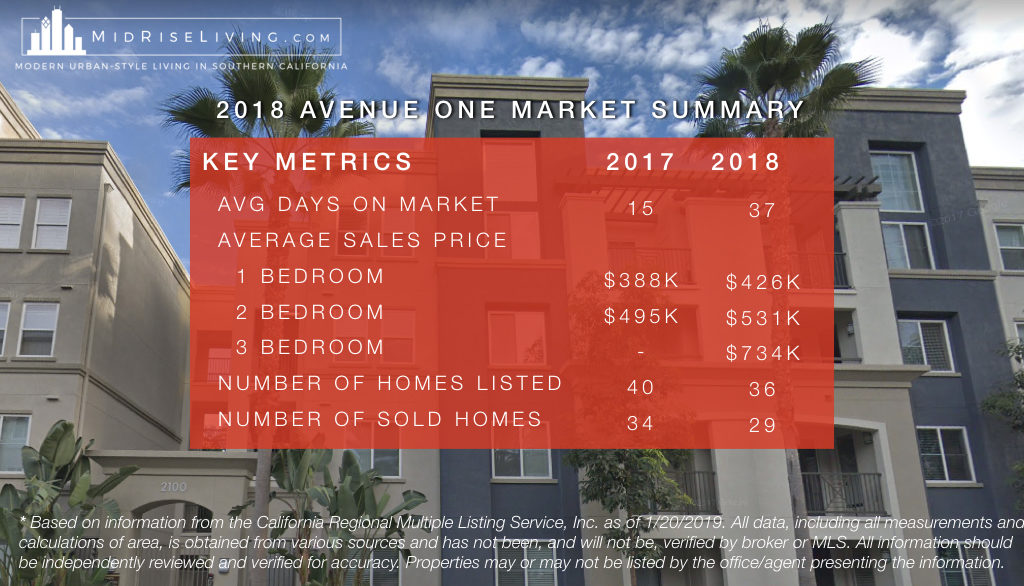 Most entry/mid level condominium buildings saw an increase in median home price compared to 2017. For Avenue One, all floorplans gained in value. The highest sales for 2018 in Avenue One were: $451,000 for a 1-bedroom, $600,000 for a 2-bedroom, and $719,000 for a Residence 3-A (1,340 square feet).
While many buildings and markets saw an increase in listings to hit the market, Avenue One actually saw a decrease from 34 homes in 2017 to only 29 homes listed in 2018.
Unlike 2017, Avenue One homes took longer to sell overall with an average of 37 days on the market. While there were many that had sold in under 10 days similar to 2017, a few homes took over a few months and that increased the number significantly.
2019 Outlook for Avenue One
Unless there are significant changes in the economy or a sharp increase in Avenue One homeowners deciding to list their home occurs, 2019 should be very similar to 2018 with the prices remaining about the same.
You can obtain a market value and view competing inventory for your specific floorplan here.